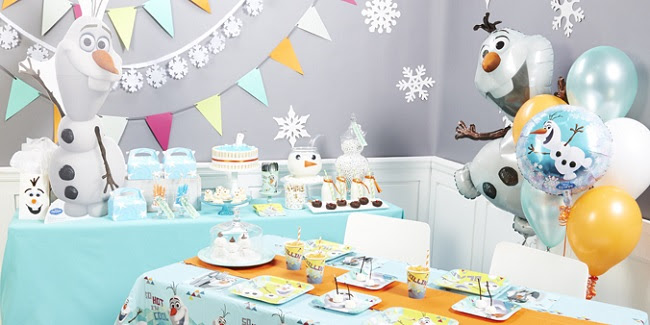 Planning a party can sometimes be stressful, but our favorite snowman inspires so many fun-filled party ideas, it'll be easy to get caught-up in the festivities. Olaf would encourage you to let it go, make it your own, and snowball the following ideas into your own memorable party.If you are looking for Olaf Birthday Party Supplies, Birthday Express has everything you need!

Olaf Birthday Party Supplies-Invitations 
Send out an invite to guests asking, "Would you like to build a snowman?" Then, on the inside, it could read, "Then come join the fun with Olaf and friends at _____'s birthday party! And be sure to bring warm hugs!" You could also make each invite in the shape of a snowflake or include a Felt Snowflake Sticker inside the invite.

Olaf Birthday Party Supplies-Party Decor 
With Olaf, you could throw a party with a winter decor or a summer decor since Olaf loves the sun! Definitely get the party started off right with the Disney Olaf Value Party Pack as it contains everything one needs for a party, including plates, cups, napkins, utensils – even balloons and thank- you notes! You could create a "pin the nose on Olaf" game, a "build your own snowman" table with rice crispy treats, and elevate the laughter with an Olaf 3D Pull-String Pinata. Decor can range from blue and white (e.g. lights, streamers, balloons, and snowflakes) to sun, surf, and sand decorations. Be sure to add the Olaf Balloon Bouquet – it'll definitely give your party a lift.

Olaf Birthday Party Supplies-Food & Drink 
Bring together marshmallows, pretzel sticks, black licorice, and baby carrots and you've got yourself edible snowmen (no offense to Olaf, of course). Consider making "melted Olaf's" with greek vanilla yogurt or vanilla pudding cups. You could make blue jello "ice block" jigglers, snowflake cookies, and blue icing-dipped pretzel sticks. For dessert you could have hot chocolate and s'mores, or get an Olaf-themed birthday cake!
Whatever you include in your party, the one thing that Olaf would insist on is that you make it happy and fun – with lots of warm hugs. Shop all your Olaf Birthday Party Supplies from Birthday Express now!